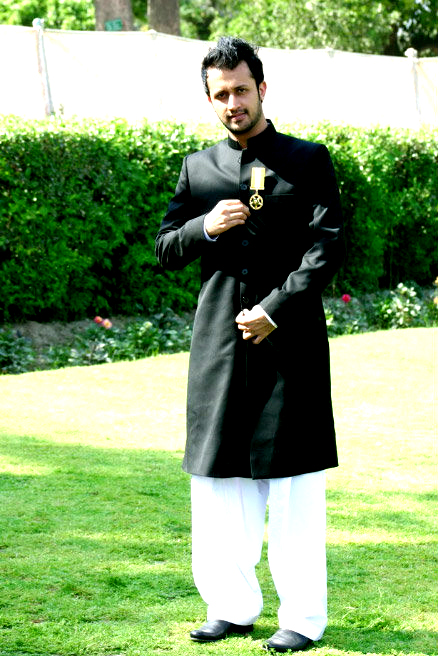 Raising up with a dreamof being a rock star as a kid and at the age of 25 he got his dream fulfilled. A well known singer, composer, lyricist and model who is awarded with one of the highest civil awards of Pakistan Tamgha-e-Imtiaz by President of Pakistan at a very young age. Yes he is Atif Aslam. Let's join to know how Atif achieve his dream
Early Life
Atif born on 12th of March, 1983 in Wazirabad. Atif's educational carrier started from Kindergarten in Model Town Lahore at Kimberley Hall School. His first stage performance was in a fancy dress show at his school when he was in 1st grade, where he performed as Imran Khan ' Kindergarten of Atif started in Model Town Lahore at Kimberley Hall School. His first stage performance was in a fancy dress show at his his school when he was in 1st grade, where he performed as Imran Khan 'the Captain of pakistani Cricket Team'. Since then cricket was a passion for him.
At the age of 9, he moved to Rawalpindi where he studied at Saint Paul's Cambridge School. He came back to Lahore in 1995 where he continued his studies in Divisional Public School (DPS), Model Town, Lahore. He was selected in his school cricket team as a bowler. He cleared his 10th grade in 14 years of age with a distinctive edge that he has always been the youngest boy in the class because of his double promotions while he was in Kimberley Hall. During this period he was putting his best efforts into becoming a professional cricketer. He passed out of DPS after completing his school ending matriculation exams. He also played Table Tennis. He further continued his education at PAF College, Lahore where he completed his F.Sc with the class of 2001. He then did his Bachelors of Computer Science from PCBA/PICS (University of Central Punjab).
Music Carrier
In 1988 for the first time he participated in the singing competition on Independence Day Celebrations at PAF College Lahore and also in Sargodha. He gave a brilliant performance there and won the competition.
 It was at PICS Lahore that he met guitarist and talented, young composer (like himself), Gohar Mumtaz. The two became friends and started jamming together. This lead to performances at their college and at various restaurants eventually pushing the pair into finding a name for their subtly formed band, which they duly named "Jal" – which means Water-. Working together, the pair recorded the song Aadat (with the help of Salman Albert, amongst other established and accomplished Pakistani musicians). 'Aadat' first made buzz through the Internet. 'The video released and a star was born. But no one could've predicted where this star would go. 
Solo career
Jal broke up and Atif went solo. Atif Aslam released his first Album Jal Pari on 18th July 2004. Its promoters declared it to be the best selling album of the year within just 5 months of the release. His second album, Doorie was released on 22 December 2006.
 Atif Aslam's soulful voice crossed the Pakistani border and reached India when Bollywood director Mahesh Bhatt called Atif Aslam to seek his consent to put "Woh Lamhey" as a song in the soundrack of his new motion picture, Zeher. After that, Atif Aslam's music spread across to people and radio stations that play it all over the subcontinent now.
Atif has continued to grow and is becoming a bollywood playback singer in great demand at such a young age, with very few OSTs to his name. He recorded a song for the movie Kalyug, entitled 'Juda Hokey Bhi' – a slight variation of the ever famous Aadat song. Like with "Wo Lamhey / Bheegi Yaadein", a slow version became the theme for the movie and part of the official soundtrack, whilst a remixed version was released to hit the radio stations and desi clubs worldwide.
After recording for Kalyug, an Irani director in Hollywood contacted Atif and within very little time, Atif recorded three songs for that same director's Hollywood movie, 'Man Push Cart' and was rewarded with a small cameo role in the movie itself!
All of a sudden, after a relatively quiet summer, Atif re-emerged in the subcontinent with a new track, "Tere Bin"  for the Bollywood Movie, Bas Ek Pal. Yet again, the song was remixed and as expected it became popular in a very short amount of time. Once again, Atif's voice is electrifying the airwaves on radio stations throughout the subcontinent.The song "Tere Bin" has become a sensational hit, going at number #1 on all Pakistani/Indian music sites.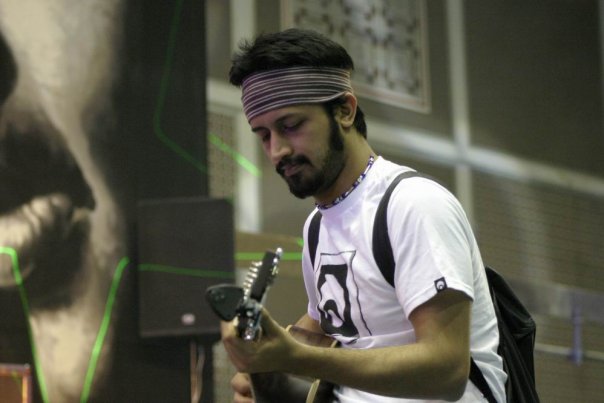 Recently, Atif sang two songs for a Bollywood film Ajab Prem Ki Ghazab Kahani called Tera Hone Laga Hoon and Tu Jaane Na, both of which have been well-received by the Indian audience. Atif has also sung many more songs for Bollywood like Pehli Nazar Mein (Race) and Bakuda Tum Hi Ho (Kismat Konnection).
His latest Bollywood venture is Prince in which he has sung four songs, (Tere Liye, Aa Bhi Ja Sanam, Kaun Hoon Main and O Mere Khuda). The songs are composed by musician Sachin Gupta, who has had a number of hits with Atif in the past.
Most popular songs
Some Popular Songs of Atif Aslam which rock the music world are:
Woh Lamhe (Which also used in the bollywood movie "Zeher". This was his first song performed for the Bollywood film industry.)
Aadat – Jalpari
Bakhuda Tumhi Ho (Duet with Alka Yagnik for the Movie Kismat Konnection in the year 2008).
Pehli Nazar Main (Sung for the movie Race in 2008)
Tere Bin (sung in the movie Bas Ek Pal in 2006)
Hum Kis Gali Ja Rahey Hain
Aadat (whish is used in the Bollywood movie Kalyug).
Maahi Ve
Doorie
Kuch Is Tarah
Meri Kahani
Chor Gaye
Joug
Ehsaas
Rabba Sacheya
Mahiya Ve Soniya
Yakeen
Awards
Best song, Best Composition, Best Lyrics "Aadat"- 2nd Jazz Indus Music Awards (Pakistan).
Best playback singer, Best debut singer – Sahara Sangeet Awards (India).
Best Song, Best Lyricist, Best Composition – ARY Music Awards (Pakistan).
Most Wanted Male – The Musik Awards (Pakistan).
Best pop star of the year – Filmazia awards (Pakistan).
Best album of the year "Doorie" – 2007 LUX style awards (Pakistan).
Best stylish musician of 2007 – MTV Pakistan style awards.
Most stylish MUSICIAN – MTV STYLE LYCRA AWARDS INDIA.
Received the highest Pakistani Civilian Award , "Tamgha-e-Imtiaz" (Star-of-Excellence), on Pakistan Day (23 March 2008).
Videos

Mahi Ve

Hum jis gali ja rahay hain

Aadat

Woh Lamhe

Tere bin

Tera Honay Laga hoon