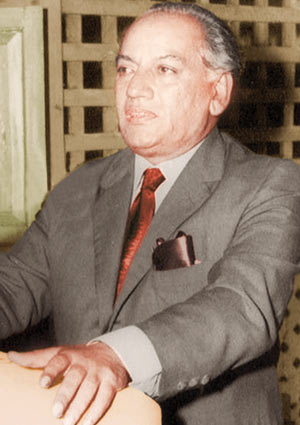 Faiz Ahmed Faiz was born in the village Sialkot in Punjab during British rule. He was the son of Sultan Mohammad Khan and his youngest wife Fatima.
Following the Muslim tradition in South Asia, Faiz, at an early age was sent to the Masjid (Mosque) to be oriented with the basics of religious studies by Maulvi Muhammad Ibrahim Mir Sialkoti. Later, he went to Scotch Mission School, Sialkot, for academic education and after matriculation, joined the Murray College, Sialkot for intermediate and graduation. His most influential teachers were Shams-ul-Ullamah (The Sun of Scholars) Syed Mir Hasan (Arabic) (who had also taught the well renowned philosopher, poet, and politician of South Asia, Allama Dr. Muhammad Iqbal), and Professor Yousuf Saleem Chishti (Urdu). He acquired his post-graduate studies from the Government College, Lahore (Master of Arts in English Literature) and the Oriental College, Lahore to achieve another masters degree in Arabic Literature.
Career
Faiz started a branch of Progressive Writers' Movement in Punjab in 1936. Also he was a Member and Secretary of this branch. Faiz was also an Editor of Mahanama (Monthly) Adab-e-Lateef (1938-1942 AD). Faiz became a lecturer in English at M. A. O. College, Amritsar in 1935 and then at Hailey College of Commerce, Lahore. He briefly joined the British Indian Army and was promoted to the rank of Lieut. Colonel in 1944. He resigned from the Army in 1947 and returned to Lahore to become the first editor in chief of the Pakistan Times, a paper started by Mian Iftikharuddin. In 1959 he was appointed as Secretary, Pakistan Arts Council and worked in that capacity till 1962.
Returning from London in 1964 he settled down in Karachi and was appointed as Principal at Abdullah Haroon College. He was editor of the monthly magazine Adabe-Latif from 1947 to 1958. Faiz distinguished himself as a journalist and was editor of the Pakistan Times, the Urdu newspaper Imroze and the weekly Lail-o-Nihar. In the 1965 war between India & Pakistan he worked in an honorary capacity in the Department of Information and during that period Faiz was very much close to the senior officers, like Syed Fakhruddin Balley. In exile he acted as Editor of the magazine Lotus in Moscow, London and Beirut.
Faiz wrote poems that opposed the bloodshed occurring in what became Bangladesh during the conflict with Pakistan.
Communism
In a certain period of his life, Faiz was a communist and was associated with the Communist Party of Pakistan. Faiz spent much of the 1950s and 1960s promoting the cause of communism in Pakistan. During the time when Faiz was editor of The Pakistan Times, one of the leading newspapers of 50s, he lent editorial support to CP. He was also involved in the circle lending support to military personnel (e.g. Major General Akbar Khan. This involvement with CP and Major General Akbar Khan's coup plan lead to his imprisonment later.
Sufism
Faiz was an avowed supporter of Sufism. He had close relations with several Sufi saints of his time. He was all time favourite of Baba Malang Sahib, a Sufi of Lahore , Ashfaq Ahmad khan, Syed Fakhruddin Balley, Wasif Ali Wasif and other renowned sufies. Once when he was asked how can he compares Sufis with socialist comrades, he replied, "They (Sufis) are the real comrades". He is also credited for coining the term Ana al-Haqq in political sense.
Imprisonment
Faiz was charged with complicity in a failed coup attempt known as the Rawalpindi Conspiracy Case and was sentenced to four years' imprisonment in 1951. The jail term gave him a first-hand experience of the harsh realities of life, and provided him with the much-needed solitude to think and write poetry. Two of his greatest works Dast-e-Saba and Zindan-Nama were products of this period of imprisonment.
In the 1930s Faiz Ahmed Faiz married Alys Faiz, a British woman. They had two daughters Moneeza and Salima Hashmi Salima is an eminent artist while Moneeza is a TV producer. Salima and Moneeza are married to brothers Shoaib Hashmi and Humair Hashmi who are noted media personalities in their own right.
Translations
Faiz Ahmed Faiz's poetry has been translated into many languages, from English to Russian. A Balochi Poet, Mir Gul Khan Nasir, who was also a friend of Faiz Ahmed Faiz translated his book "Sar-e-Wadi-e-Seena" into Balochi with the title "Seenai Keechag aa". This work of Faiz was translated by Gul Khan while he (Gul Khan) was in jail during Bhutto's regime for opposing the government's policies. It was published in 1980, after Zia-ul-Haq toppled Bhutto's government and freed all the political prisoners of his (Bhutto's) regime.
Faiz Ahmed Faiz, himself, has also translated works of notable poets from other languages into Urdu. In his book "Sar-i Waadi-i Seena" there are some translations of the famous poet of Dagestan, Rasul Gamzatov. "Deewa", a Balochi poem of Mir Gul Khan Nasir was also translated into Urdu by Faiz.